EVERYTHING YOU NEED FOR RACING OR CRUISING!
Varakai, 1992 Corsair F-27 Trimaran #323, for sale. $39,900, includes Chevy Astro towing van.
$35,900, without the van.
Located in Eugene, Oregon. Call 541-513-6316 or charliejmagee@gmail.com.
The Photo Gallery is a random collection of shots. We'll be putting her in the lake in early May and will have a more detailed collection then.
She is a fresh-water boat and has never had her bottom painted.
A Short History
She was previously known as "Flying Bye" and the original owners were Tom and Debra Emery of Sacramento, California. Tom bought her to race on San Francisco Bay and he installed the standard go-fast gear that many F-27s carry: bowsprit, asymm spin, screecher, double-spreader rig, barberhaulers, and aft cabin beam post. She was kept on the hard in Oakland or in their RV garage at home.
As the years went by, Flying Bye became more of a cruiser and that brought the addition of a 120w solar panel, hotel-sized minifridge, dodger, bimini, and Autohelm with remote control.
That's the boat Charlie and Geni purchased and renamed Varakai. They've sailed her and keep her protected from the Oregon winter rains. Charlie raced Varakai occasionally on Fern Ridge Lake, but mostly we cruised her on Fern Ridge, Clear Lake California, the San Juan Islands of Washington, and the Gulf Islands off Vancouver Island.
The back double bunk is comfortable for two medium people, tight for anyone large or for those that move around a lot in their sleep.

SAILS and SAIL CONTROL
Smythe square-top main in good to very good condition. Still holds great shape. Bolt-rope has been repaired in several places.
Pinhead main: little used, very good condition.
Calvert jib: very good condition
Calvert battened racing jib: very good condition, except luff needs a repair.
Asymmetric spinnaker: very good condition, has had a couple of patches
Symmetric spinnaker: excellent condition
ATN Spinnaker sock
Screecher: excellent condition w/ Harken furler
Harken jib furler
Bow sprit with lower bow eye
Cunningham, barber-haulers, boomvang, all halyards and sheets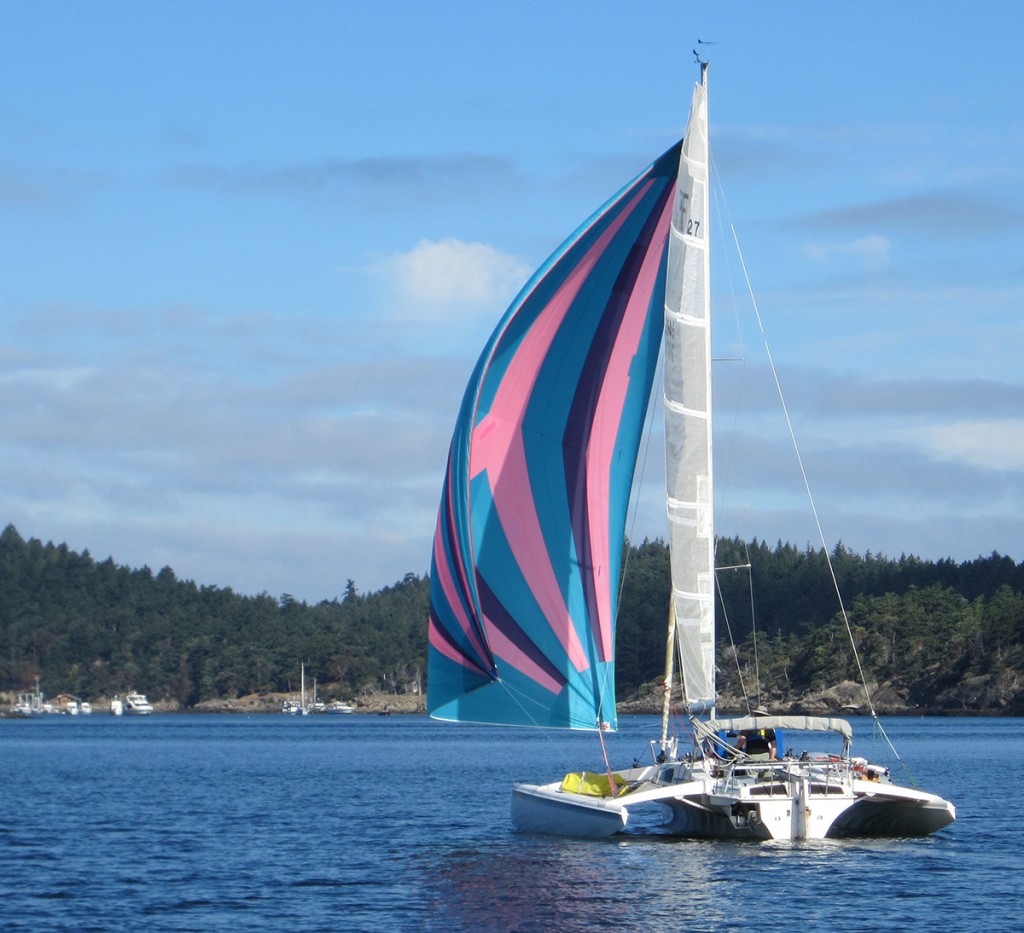 CRUISING GEAR
Compass
Tramps are in very good condition
Dodger: hardly used, excellent condition
Bimini: some wear on the cover, very good condition
Cockpit cushions showing age
Cabin cushions; new 2019
Back bed cushion, very good condition
Mainsail cover, good condition
Jib cover; material is fine but zipper is broken
Mini-fridge: excellent for cruising. Runs fridge, stereo, nav, wind/depth all day long. Unplug after sun goes down, keeps ice over night
120amp solar panel
Excellent CD/Tuner stereo with amplifier; speakers inside and out
Has slide-in table for saloon meals
Has Inserts to make galley and settees into double bed
Barbecue for the stern rail

ELECTRONICS
Raymarine Autohelm with remote; works great
Raymarine Wind/Depth: wind instrument has issues: sometime works, sometimes doesn't, no longer shows apparent wind
Handheld Radio
Icom Radio has been removed, but kept. Needs new antennae if you choose to put it back into the system
Amplified, 4-speaker audio system
Nav lights
Masthead light
Deck light
Engine & Miscellaneous
Honda 8 4-stroke; tuned April 2019
Pacific Trailer with disc brakes. Refurbished/tuned April 2019.
New wood tiller
3 anchors, anchor chain, anchor rode
Anchor roller on bow
Fenders